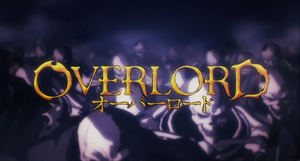 Overlord is a dark fantasy anime based on its Japanese novel counterpart written by Kugane Maruyama. Season 1 of Overlord was a thirteen episode series that premiered in Summer 2015 and it covers the first three volumes of the light novels.
Overall, it is an anime adaptation produced by Madhouse and directed by Naoyuki Itou which begun airing from July 7 to September 29, 2015. The opening theme is "Clattanoia" by OxT while the ending theme is "L.L.L." by Myth & Roid.
While so, two compilation anime films recapping the events from the anime television series were released in Japan on February 25, 2017, and March 11, 2017, respectively. Season 2 of the anime television series was announced at film screenings of the second compilation film and is titled as Overlord II.
Like the prequel season, Overlord II will also be a thirteen episode series, which premiered on January 9th, 2018 which covers from volumes 4 to 6. The opening theme is "Go Cry Go" by OxT while the ending theme is "Hydra" by Myth & Roid.
On April 3, 2018, it was announced that Season 3, Overlord III, would be aired on July 10, 2018. The opening theme is "Voracity" by Myth & Roid while the ending theme is "Silent Solitude" by OxT.
Furthermore, each season of Overlord is licensed in North America by Funimation.
Season 1
Images
Episode Title
Air Date
Episode

End and Beginning
終わりと始まり
Owari to Hajimari
July 7, 2015
1

Floor Guardians
階層守護者
Kaisō Shugo-sha
July 14, 2015
2

Battle of Carne Village
カルネ村の戦い
Karune-Mura Notatakai
July 21, 2015
3

Ruler of Death
死の支配者
Shi no Shihai-Sha
July 28, 2015
4

Two Adventurers
二人の冒険者
Futari no Bōken-Sha
August 4, 2015
5

Journey
旅路
Tabiji
August 11, 2015
6

Wise King of Forest
森の賢王
Mori no Ken-ō
August 18, 2015
7

Twin Swords of Slashing Death
死を切り裂く双剣
Shi O Kirisaku Futaken
August 25, 2015
8

The Dark Warrior
漆黒の戦士
Shikkoku no Senshi
September 1, 2015
9

True Vampire
真祖
Shinso
September 8, 2015
10

Confusion and Understanding
混乱と把握
Konran to Haak
September 15, 2015
11

The Bloody Valkyrie
鮮血の戦乙女
Senketsu No Sen'otome
September 22, 2015
12

PVN: Player VS Non Player Character
PVN
PVN
September 29, 2015
13
Season 2
Images
Episode Title
Air Date
Episode

The Dawn of Despair
絶望の夜明け
Zetsubō no Yoake
January 9, 2018
1

Departure
旅立ち
Tabidachi
January 16, 2018
2

Lizard Men, Gathering
集う、蜥蜴人
Tsudou, Rizādoman
January 23, 2018
3

Army of Death
死の軍勢
Shi no Gunzei
January 30, 2018
4

The Freezing God
氷結の武神
Hyōketsu no Bushin
February 6, 2018
5

Those who pick up, Those who are picked up
拾う者、拾われる者
Hirou mono, Hirowa reru mono
February 13, 2018
6

Blue Roses
蒼の薔薇
Aoi no Bara
February 20, 2018
7


A Boy's Feeling
少年の思い
Shōnen no Omoi
February 27, 2018
8


Soaring Sparks of Fire
舞い上がる火の粉
Maiagaru Hinoko
March 6, 2018
9


Disturbance begins in the Royal Capital
王都動乱序章
Ōto Dōran Joshō
March 13, 2018
10


Jaldabaoth
ヤルダバオト
Yarudabaoto
March 20, 2018
11


The Final Battle of the Disturbance
動乱最終決戦
Dōran Saishū Kessen
March 27, 2018
12


The Ultimate Trump Card
最強最高の切り札
Saikyō Saikō no Kirifuda
April 3, 2018
13
Season 3
Trivia
Gallery
Click on the images to enlargen them.