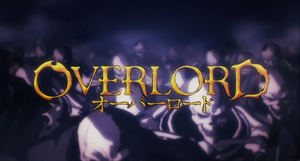 Overlord is a 2015 dark fantasy, science fiction anime based on its Japanese novel counterpart written by Kugane Maruyama. Overlord was a thirteen episode series that premiered on Summer 2015 and it covers the first three volumes of the light novels.
Overall, it is an anime adaptation produced by Madhouse and directed by Naoyuki Itou which begun airing from July 7 to September 29, 2015. For Season 1, the opening theme is "Clattanoia" by OxT while the ending theme is "L.L.L." by Myth & Roid.
Furthermore, Season 1 of Overlord is licensed in North America by Funimation.
While so, two compilation anime films recapping the events from the anime television series were released in Japan on February 25, 2017 and March 11, 2017, respectively. A second season of the anime television series was announced at film screenings of the second compilation film and is titled as Overlord II. It premiered on January 9, 2018. For Season 2, the opening theme is "Go Cry Go" by OxT while the ending theme is "Hydra" by Myth & Roid.
Season 1
Edit
Images
Episode Title
Air Date
Episode

End and Beginning
終わりと始まり
Owari to Hajimari
July 7, 2015
1

Floor Guardians
階層守護者
Kaisō shugo-sha
July 14, 2015
2

Battle of Carne Village
カルネ村の戦い
Karune-Mura Notatakai
July 21, 2015
3

Ruler of Death
死の支配者
Shi No Shihai-Sha
July 28, 2015
4

Two Adventurers
二人の冒険者
Futari No Bōken-Sha
August 4, 2015
5

Journey
旅路
Tabiji
August 11, 2015
6

Wise King of Forest
森の賢王
Mori No Ken-ō
August 18, 2015
7

Twin Swords of Slashing Death
死を切り裂く双剣
Shi O Kirisaku Futaken
August 25, 2015
8

The Dark Warrior
漆黒の戦士
Shikkoku No Senshi
September 1, 2015
9

True Vampire
真祖
Shinso
September 8, 2015
10

Confusion and Understanding
混乱と把握
Konran To Haak
September 15, 2015
11

The Bloody Valkyrie
鮮血の戦乙女
Senketsu No Sen'otome
September 22, 2015
12

PVN: Player VS Non Player Character
PVN
PVN
September 29, 2015
13
Season 2
Edit
Click on the images to enlargen them.
Ad blocker interference detected!
Wikia is a free-to-use site that makes money from advertising. We have a modified experience for viewers using ad blockers

Wikia is not accessible if you've made further modifications. Remove the custom ad blocker rule(s) and the page will load as expected.